A message board I participate in had a discussion today about cranberry sauces. Personally, I prefer a fresh cranberry relish.
My Granny B made one that I adored. I looked forward to it every year. Granny was not known for her cooking, but that cranberry relish was a favorite of mine. I asked for her recipe on year and she gave it to me in a Christmas card. I meant to keep that card and I think I did for a couple of years, but at some point I lost it. I could kick myself for losing it. I have been on a quest for "her" recipe for a couple of years now.
I've found one that is really close... close enough, really. Here it is...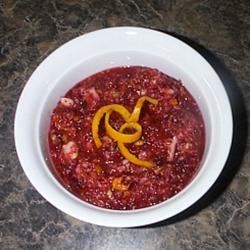 Ingredients:
1/2 cup walnut halves
1/2 cup sugar
5 strips orange zest
2 cups fresh or frozen cranberries (donot thaw if using frozen berries)
1/2 large navel orange, peeled, cut into quarters
Instructions: Preheat oven to 350° F. Place walnuts in a baking pan and toast until golden brown and fragrant, about 8 to 10 minutes. Cool slightly.
Insert metal blade in food processor. Process sugar and zest until finely chopped, about 45 seconds. Add cranberries, orange and reserved nuts; pulse until coarsely chopped, about 10 to 12 times. Pulse several more times if a finer consistency is desired.
Or, if you prefer...